Dice for Sale
A huge variety of dice for sale, in small or large quantities.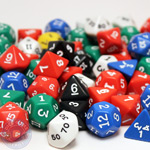 As our name suggests, we have dice for sale. Lots of dice. We've also got playing cards and game supplies of all types, but it's our goal to provide you with the biggest selection of dice anywhere on the internet.
When we say we have dice for sale, we mean it! We've got regular six-sided dice for sale in a rainbow of colors and hundreds of styles. We also have polyhedral dice, such as 8-sided dice, 12-sided dice, and 20-sided dice. We have sets of polyhedral dice for roleplaying games such as Dungeons & Dragons and Pathfinder. And we also have educational dice, great for home or classroom use.
Begin your dice-shopping adventure by selecting one of the categories below!